LONDON YARNS is one of Southwestern Ontario's




largest independent yarn shops!
At London Yarns, we are constantly striving to offer you the best selection of knitting, felting & crochet supplies. Our yarns come in a wide variety of weights, colours and textures. Check back regularly, as our product inventory continues to grow and change.
---
---
We are OPEN for CURBSIDE PICK-UP ONLY.
Revised Curbside Pickup Hours are as follows:

OPEN Tuesday to Saturday from 12 noon until 4pm
Closed on Sunday & Monday
---
LOCKDOWN UPDATE
As you may be well aware, the Ontario government modified their lockdown regulations effective now. Does this affect London Yarns? And, if so how?

The simple answer is NO, it does not affect us and our ability to continue functioning as we always have been, since last Spring. This is because we are operating as curbside pickup and delivery only, with no in-person shopping. And we are working well within the new regulated store hour limitations.

What it does mean is that we will continue doing 'business as usual' with our previously established Covid-regulations:
curbside pickup or delivery ONLY, Tuesday through Saturday, 12pm - 4pm

no in-store shopping

no exchanges or returns for store credit, at this time

no in-personal help

no classes
B-U-T, with one small, temporary revision…that being that with the new Stay at Home Orders, we can no longer offer "through the door shopping" at this time. All orders for curbside pickup must be placed and paid for IN ADVANCE by phone or by email, and when you arrive at the store we will put your purchase on the table outside the door.

When picking up your order, please remember to abide by the 'social distancing' guideline by keeping a 2-metre distance from the door while we open it to put your purchase on the table outside, for both your safety and for ours.

We thank all of you for your continued support and understanding during these trying times!
---
---
Regulations for Curbside Pick-Up:
Shipped via Canada Post

Courier Service in London ($7 flat rate)

Curbside Pick-Up
Curbside Pick-Up Regulations:
Absolutely no cash will be accepted (there is currently no cash on the premises)
We are unable to accept debit cards or provide the "tap" feature on your card, until the lockdown is lifted
We are unable to accept paper Gift Certificates currently. Only online Gift Certificates can be redeemed. Gift Certificates can be purchased over the phone or online at www.londonyarns.com
Orders must be paid in full by credit card PRIOR to arriving at the store, until the lockdown is lifted.
Upon your arrival, the door will be unlocked, your parcel will be placed on the table directly outside the door and our door re-locked BEFORE you leave your vehicle.
The "pick-up table", the surfaces in the store, telephones, computers and all incoming deliveries will be cleaned and sanitized for everyone's safety and protection.
Please remember, we are all in this together and the number one priority is to keep everyone safe and healthy.

Thank you for your cooperation and consideration!
---
---
Where to find us...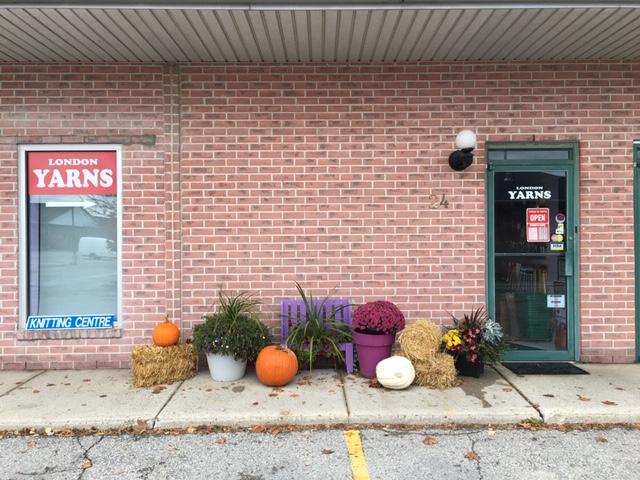 1615 North Routledge Park,
Unit 24,
London, ON N6H 5L6
519-474-0403
---
DIRECTIONS TO OUR STORE:
If you will notice, there are two roads named North Routledge Park. Do not turn onto North Routledge at the Mandarin Restaurant – as it does not yet connect to the North Routledge Park that we are on.

If you are coming from the south on Hyde Park Road (ie. Sarnia Rd. or Oxford St.), continue north on Hyde Park Road passing through the lights at Gainsborough. Then you will see a left-hand turn lane that begins in front of the Hyde Park Village Plaza. Proceed into the turn lane and make a left onto North Routledge Park.

If you are coming from the north on Hyde Park Road (ie. Fanshawe Park Road), continue south on Hyde Park Road past our current location, keep going past the Mandarin Restaurant and then you may see on your right a little plaza with Wood & Water and Pointe & Pick Ballet on the corner of Hyde Park & N Routledge – that is where you want to turn right onto North Routledge Park.

After turning onto North Routledge Park, proceed to the bend in the road (the bend goes left) and you will want to turn RIGHT into the parking lot just as the road bends (it is the last driveway on the right-hand side before the bend). In the parking lot, go straight ahead to the building at the back of the parking lot.
---
If you are still having trouble finding us,
please feel free to give us a call
and we will guide you to our store.
---